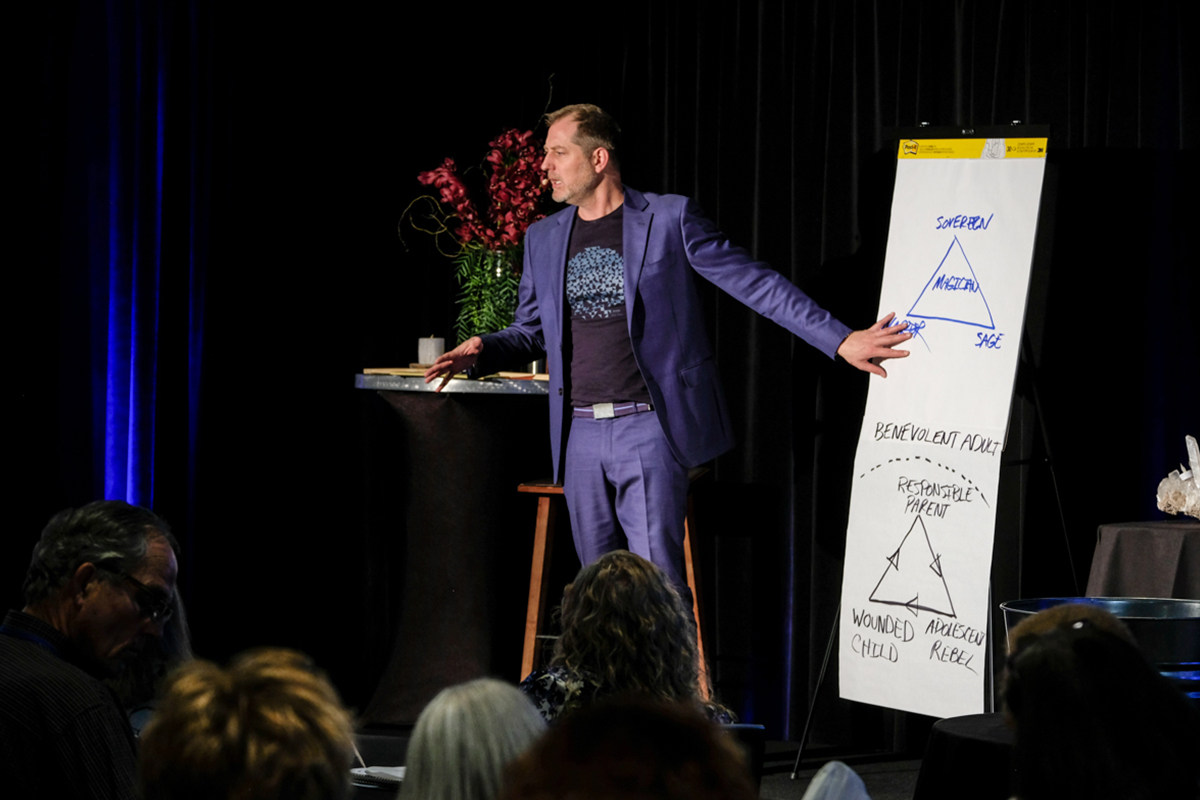 Byron Katie famously said:
"A thought is harmless unless we believe it."
What do you believe in when it comes to your message?
More importantly, what does your tribe believe in?
When it comes to creating a message that people will resonate with, your beliefs are important.
They can open doors to your audience in ways you never imagined.
You have to get your tribe to think:
"You've got a way of seeing the world that matches mine perfectly!"
This may seem complex or daunting, but it's actually pretty simple. It's all about creating bridges that nobody before you has even seen.
This is how you can pave a unique path to your tribe's needs and meet them better than anyone else. 
Let me give you an example…
One of my clients is a very successful interior designer. He and his partner have been featured  in some of the most prominent magazines, TV shows, and all that good stuff.
What sets him apart from other designers?
To begin with, he is also a Buddhist monk. On top of designing, he teaches people meditation and the Buddhist way of life.
His biggest challenge was blending the two. There may not be any connection between interior design and Buddhism, at least at first glance.
But there is. And this connection opened up a whole new dimension for my client.
He introduced an entirely new philosophy to interior design. He believes that people go about designing homes in completely the wrong way. They focus on function first and only add the details later.
Most of them completely miss the highest level of design – potential.
My client believes that your space should support your higher self. His designs make his clients feel that every single detail helps them fully express themselves.
Have you ever heard of such a philosophy?
I don't think so. You can find a good designer, but you can't find one who does what he does.
And this is the power of a unique point of view.
As soon as you create yours, your tribe will see that nobody else can match what you do.
P.S.  Whenever you're ready… Here are 4 ways I can help you grow your coaching & thought leadership business:
Grab a free copy of the Soul-Guided Niche eBook
If you've ever wondered if you're serving the right people or why people aren't following you in bigger ways, this is a great start to finding your answers. – Click Here
Join our Facebook Page, where you can watch our weekly live coaching program, The Courageous Messenger Podcast
This page is filled with resources for messengers and change agents who want to answer their calling and change the world. It includes a weekly live coaching program, on Wednesdays at 12 noon pacific, where Jeffrey helps you dial in your message and become a more courageous messenger. – Click Here
Apply for a Message Mentoring Session
If you feel lost or stuck on your message… or like it's just not working and you don't know why… it might be time for a Message Mentoring session. One of my top coaches will take you through a discovery process to figure out what's not working in your message and why. Then we'll figure out how we can help you dial it in so it lands deeply and draws the right people in. – Click Here
Work with me and my team privately
If you'd like to work with me directly to help you find the message only you can deliver – the work that sets you apart in the marketplace to elevate your brand, income and reach – just send me a message with the word "Private"… Tell me a little about your business and what you'd like to work on together, and we'll be in touch from there!